Home Jewelry producer


Jewellery Made in Germany
Jewellery with SWAROVSKI ® Crystals, gemstones, and others
Search for stone types

Search for categories
SET w. Swarovski ® Crystals
SET
COLLIER w. Swarovski ® Crystals
COLLIER
EARRINGS w. Swarovski ® Crystals
EARRINGS
BRACELETS w. Swarovski ® Crystals
BRACELETS
WEDDING Jewelry

Gift a brilliant joy with jewellery
Jewellery Made in Germany
Our designers develop jewellery that clearly demonstrates our loving and brilliant handwriting. Prove your love with a brilliant gift idea.

SWAROVSKI ® Jewellery and crystals
Perfect shine for perfect gift ideas.
BELLASIX ® integrates SWAROVSKI ® Crystals in jewellery. From our sparkling jewelry a brilliant selection is created to give joy with irresistible effect.

In our imprint you will find information about: Disclaimer, links and links to external websites.

Sporty elegance with jewellery | SWAROVSKI ® Crystals
BELLASIX ® jewellery is often the daily and sporty companion, and even in elegant evening wear always in the eye of the beholder.

Combinations of gemstones with SWAROVSKI ® Crystals give our chains, earrings and bracelets a sporty, elegant nuance to ensure a sure footing even in a sophisticated ambience.


BELLASIX - Brilliant shine
made of crystal glass

Jewelry that catches the eye

Integrations of gemstones and genuine crystal glass within our jewelry give our jewelry a special shine. Many people do not realize that crystal glass is definitely not comparable to traditional glass. Especially in the material composition, there is a significant difference to achieve the clarity and shine within a crystal glass! An increased refractive index, but above all a much higher reflection, than with ordinary glass, gives the crystal a shine with beautiful brilliance. Just jewelry that catches the eye.
BELLASIX - pure craftsmanship with
attention to detail

Wear "The" special

A variety of our jewelry receives embellishments of pure craftsmanship and the skill of the employee. EVERY one of these pieces of jewelery is practically a one-of-a-kind item, and it is precisely these deviations from REAL handmade work on the ornaments that make this piece of jewelery unique. It is the special to wear a jewelry that does not resemble everyone and represents the individual value of the jewelry: "The special" to be allowed to wear.
BELLASIX - jewelry on the
pulse currently

Craftsmanship in trend

At the pulse of the time are thus our jewelry design ideas. Our sophisticated and integrated design sets us apart from our competitors. It is the philosophy of our own jewelry production and that of the founder of Bellasix: everyday elegance combined with special design shapes, a material mix, and this in conjunction with craftsmanship. The precise work on our jewelery is a largely artisanal and inner attitude, which is reflected in highly carefully crafted pieces of jewelry. A value creation and an appreciation of the jewelry that our customers appreciate.
Jewellery with SWAROVSKI ® Crystals
for special moments.

What do you associate with good jewellery? It is this particular attraction combined with attractiveness that brings a special moment to life. Jewelery and the lady seemingly perfect vote on each other. Symbolically the perfect unity.

Design aspects in jewellery selection count as well as quality materials. Finally, the eyes of an observer are directed to the jewellery wearer. It is the eye-catcher effect and the special, which is reflected in the color-form-quality-realization and we implement within our jewellery manufactory.

Quality jewellery is passion, with which beautiful jewellery is no coincidence!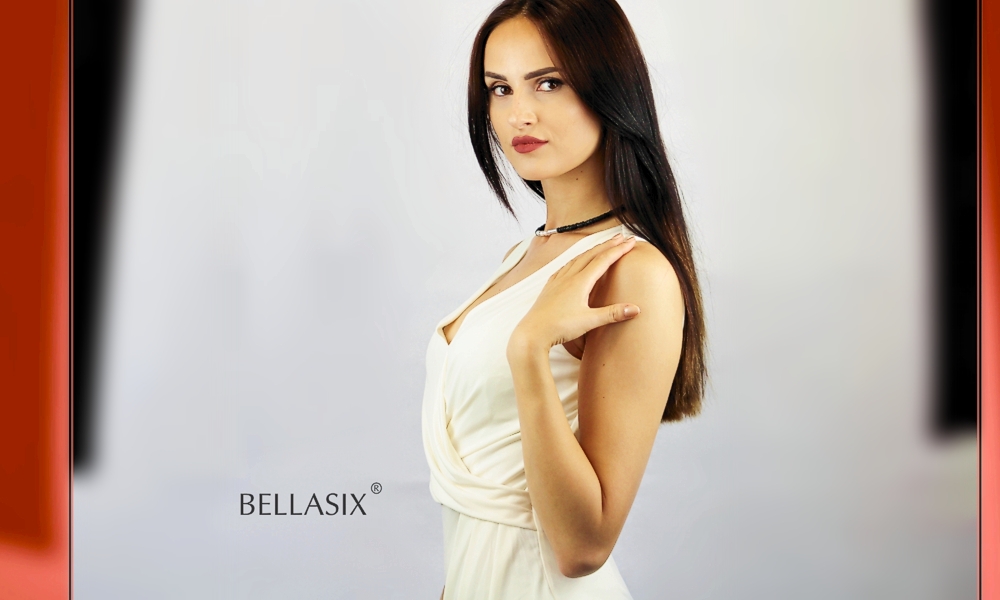 Jewellery manufacturer with production in the following business portfolio
Jewellery producer Made in Germany | Producer with in-house jewellery factory.
We are manufacturer for:
Jewellery and semi-finished products
, jewellery components and supplier for the retail store or online trade, wholesale, end consumer and the production for the jewelleery industry include our jewellery. In addition,
XXL Jewellery
,
Jewellery Specials
and
jewellery custom made
.
Our company is
jewellery producer and manufacturer
located in Germany.
We are
jewellery manufacturer
for: ear wires, necklaces, bracelets, colliers, earrings and ear wires / ear wires and XXL jewellery include our jewellery assortment. Jewellery Made in Germany, we consider qualitative passion within our
in-house jewellery manufactory
.
We are processing: Achate, Amethyst, Appatite, Aquamarine, Mountain Crystal, Chalcedony, Chrysokolla, Gemstone, Hematine, Jade, Labradorite, Lapis Lazuli, Lava, Pearl, Smoky quartz, Sardonyx, Sunstone, Turquoise, Tiger Eye, Tiger Iron. We produce necklace, bracelet, collier, earrings and ear hooks / earring wires and special desgins and jewellery for oversizes / plus sizes.
We produce:
Necklace
,
bracelet
,
collier
,
earrings
,
ear pendant
and
earhooks
and custom products, including
XXL jewellery
for
jewellery
and
jewellery specials
.
BELLASIX - brand jewelry
Made in Germany

Jewelery & Craftsmanship

Our company is located in Weilrod (Germany), located in the beautiful and almost always green Taunus. Our in-house factory ensures a high-quality production process. Assembly work is carried out here and also the production of decorative elements (jewelry elements) made of metal, which we cover with our own production and also our own machine fleet. In addition, we are also manufacturer of jewelry components, e.g. earhooks.
BELLASIX - manufacturing work

Man & machine in harmony

Many steps by hand are necessary until jewelery in its full splendor and full luster finally reaches the jewelry wearer in the retail trade. And even for the manufacture of machines, this means a hand-accompanying intervention that challenges the skilled worker in his dexterity and his manual skills.
Subsequent to the mechanical working steps, a large number of production processes are carried out, which are carried out in precise manual labor and represent the predominant part of a manufacturing work.
BELLASIX - precision work

Precision - no coincidence, but the result
of a conscientious mindset:

• Top products through quality assurance

• Customer-oriented work

• Inexpensive instead of cheap

• Highly qualified employees

• Generation know-how in production
Jewellery with SWAROVSKI ® Crystals.
That certain something in leisure and work.
Jewellery with a convincing appearance
is just what you need in your job, where subtle elegance must stand straight for the balance of your own performance. Our jewellery clothes its jewellery wearer in a classy and dynamic manner and convinces through stylish appearance, in a meeting, in the public and everywhere where one stands as a representative of a responsible professional position in the spotlight.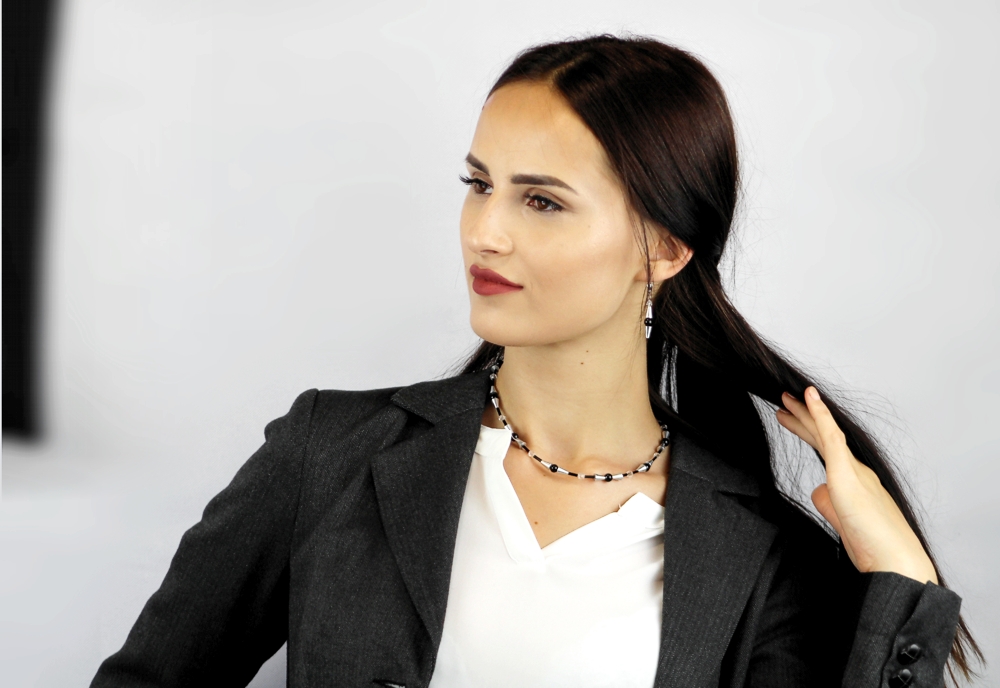 Clear design concepts ensure that they are parquet-proof and clearly structured by the clean lines that decorate the jewelleery room.
Jewellery by BELLASIX
was designed specifically for all jewellery design issues, featuring a kind of jewellery that embodies sporty elegance, coupled with dynamism and design sophistication. Clean lines and shapes convince with a brilliant shine. It is
jewellery with Swarovski ® crystals
.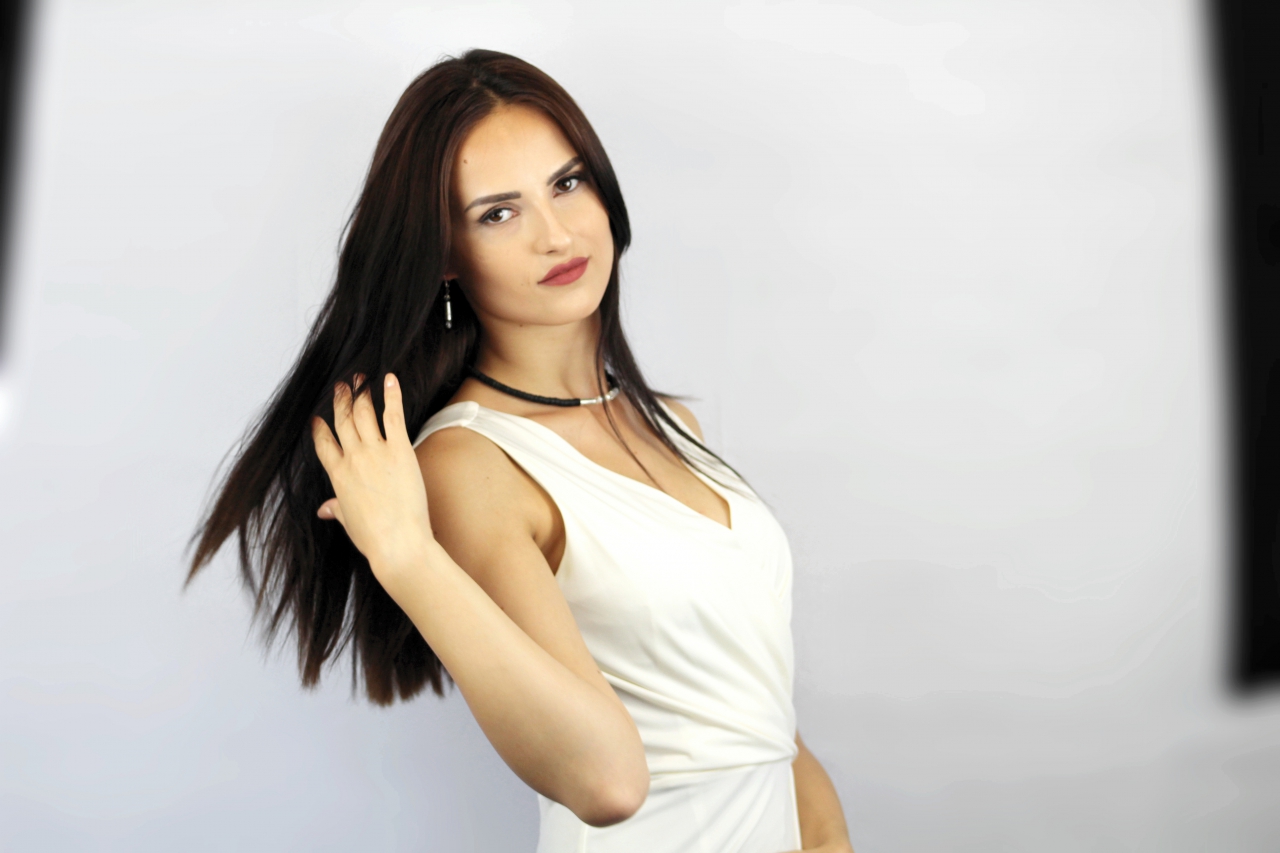 Jewellery with SWAROVSKI ® Crystals.
On the catwalk of a vernissage.
It is still early in the evening. Lights flash through the gallery, photographers welcome the intervening guests with flashlights. Fashion, art and a wide variety of designer and
jewellery
pieces offer themselves to the viewer as an offer and contract each other.
Uniqueness and splendid love of detail as symbolism for art and beauty is the maxim of the evening. In the midst of the flashlights a brilliant sparkle and reflect from Swarovski ® Crystals from the BELLASIX Jewellery Collection. Models present textile fashion on the catwalk equipped with
BELLASIX jewellery
.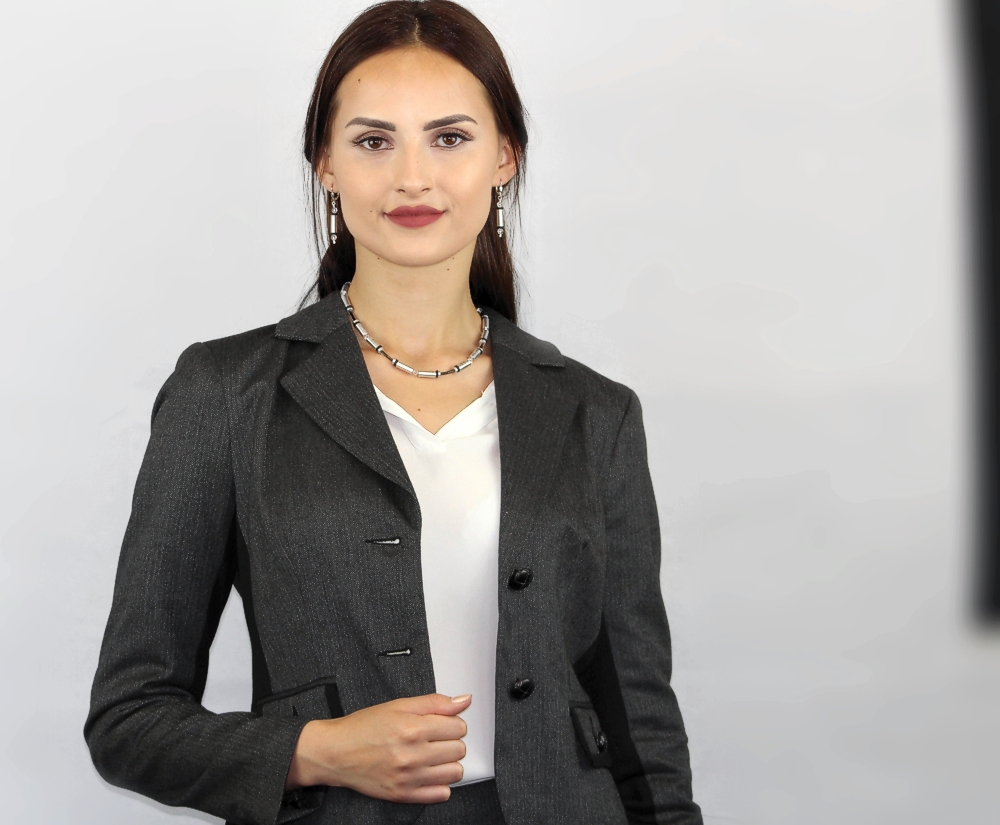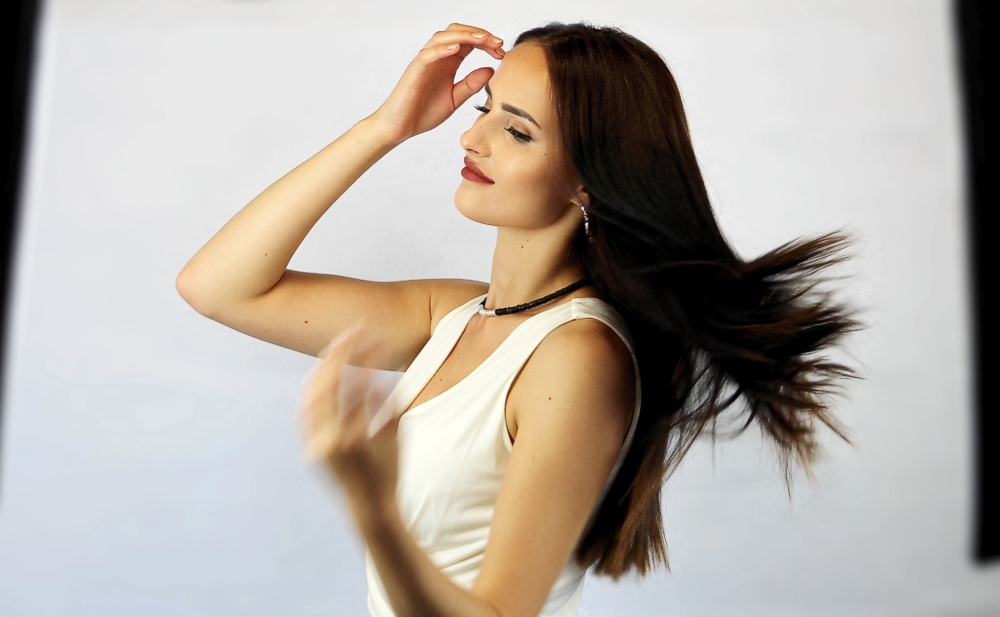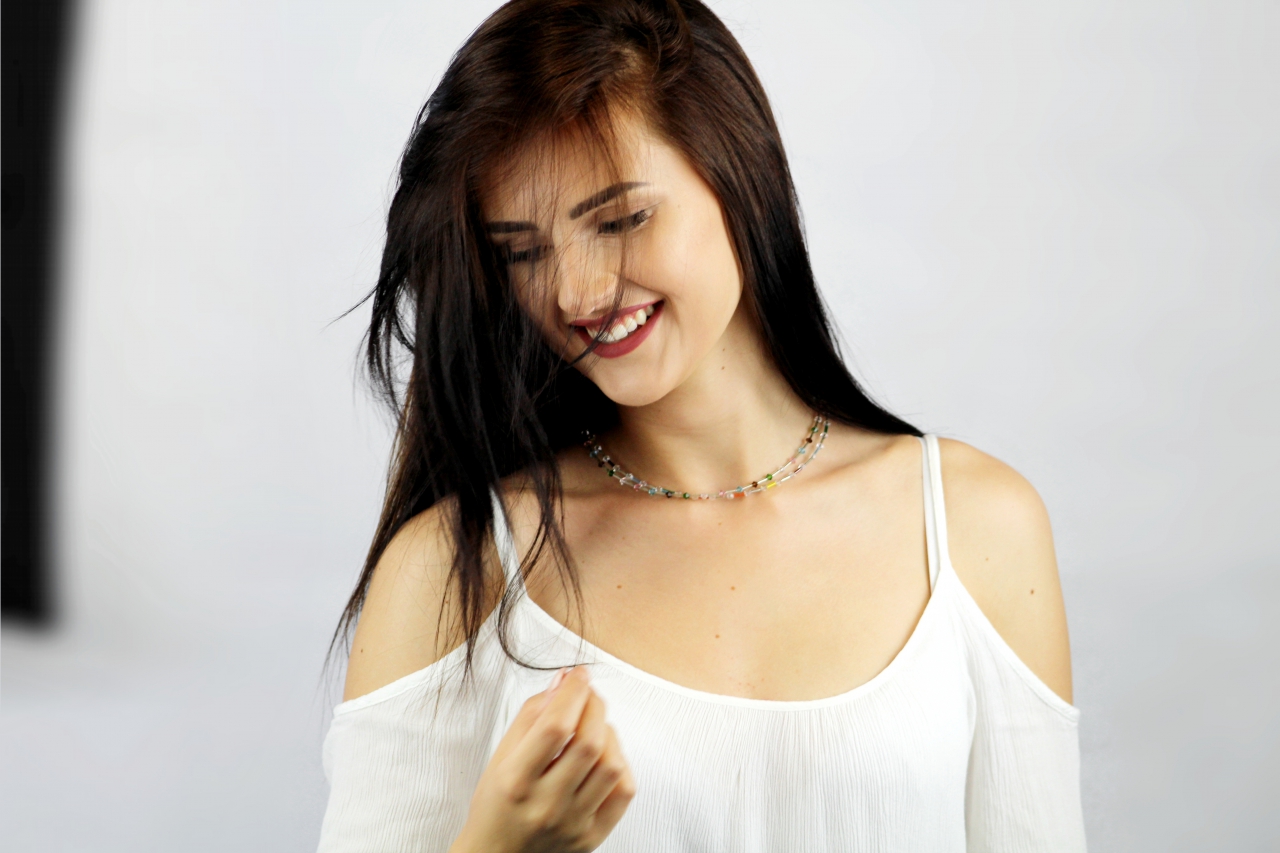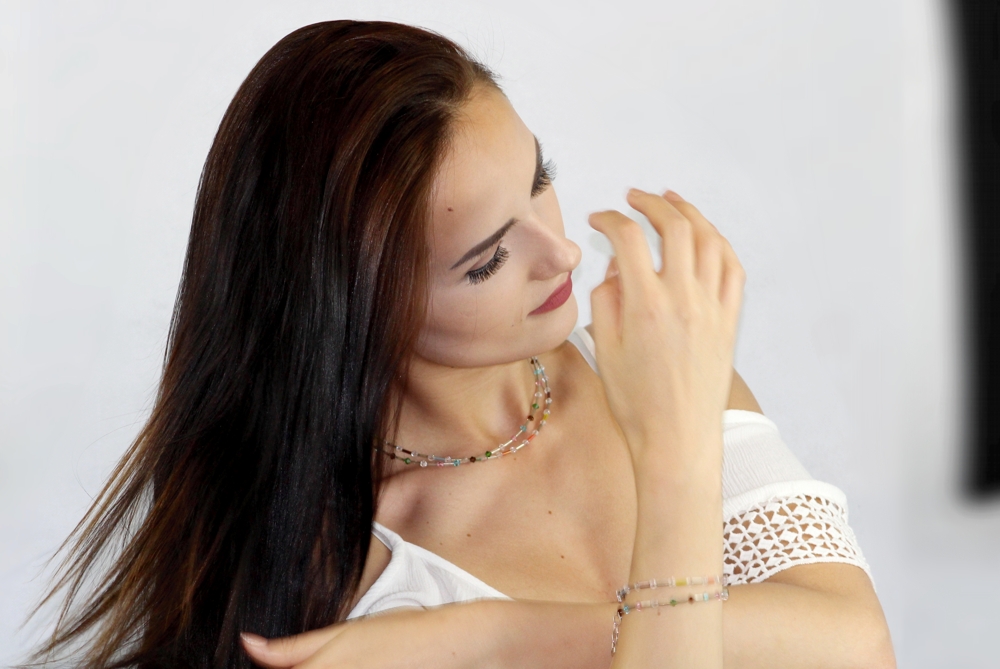 Jewellery SWAROVSKI ® Crystals.
Individually in color-form balance.
Good jewellery needs good design
. Use contrast phenomena and create content through color-form-balance that impress the discerning observer.
In this jewellery exhibit goldstone has been integrated into the jewellery design
, with golden fragments amplifying different depth effects on the observer, corresponding to a respective shadow influence of the
jewellery
.